First addition in the OS strux set, colorized images are getting some negative feedback. This one is in the imageset but not used along with some others. So it should be ok.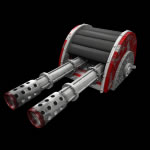 Dual Barrel Crusader
The Dual Barrel Crusader was supposed to be the go-to ballistic weapon when facing energy based weaponry. Unfortunately, it's poor performance failed to impress the investors. All plans to improve the DBC are thought to be abandoned and the first and only produced batch was lost during a bandit raid on one of UF's storage facilities.

DBC
8

15

10


DBC
8

15

10





CE Factor:

Int 1.1




-

Looses 1 damage per 1 range.




-

Rumored to be used by bandits roaming faction war planets.




-

Can only be obtained if mod salvage is used.




the mod_sortedG in mod_data.js may not be accurate but I don't think that's gona be an issue

Conditions to salvage:
- Have to be on a faction war planet
- Have to be using modsalvage (the thing is useless)
- Have to hit one of the basic bandit mods (Not gona go with the detailed math)
- If all conditions satisfied, 20% chance to get the DBC

council thread link: http://forum.mobrulestudios.com/viewtopic.php?p=153975#153975

The faction war planet only condition is to encourage the use of node drag bases again. Each planet will have it's own salvage-only mods soon.

post your comments here