Point Defense Platform
Appearance: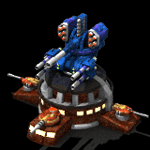 Its blue base color is replaced with gray one. Its base orange color for energy turrets is replaced with olive one.
A heavy defense structure which is built by combining three weapon types into one. It can decimate any hostile force that comes across its weapon range.
Stats:

: 100 (

+25%

/ 25 Shield/Turn)


: 100
Power:

0

/

20


Combat Efficiency:

750 – Advanced





Weapons:




12

30

400


8

20

1


8

15

400





Construction Requirements:


Point Defense Platform requires 2,000 Ore
Point Defense Platform requires 15 Command










Tank Bunker - Light
Tank Bunker - Medium
Tank Bunker - Heavy
Meka Tower - Light
Meka Tower - Medium
Meka Tower - Heavy
Replication Plant
Duplication Plant
Reconstruction Plant
Assembling Facility
Armory