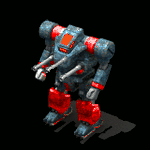 Battle Axe Meka Boss
A custom made Battle Axe Meka. Elite bandits are known to customize their units to gain an edge over their enemies in combat. Obsessed with their designs, custom made units are set to self destruct when the battle is lost.
Stats
Shields:
20

[
+20%
/

4

Shields / Turn ]
Armor:
300

Controlled / Max Speed:
6

/
6

Combat Efficiency:
1200 (Advanced)
Battle Axe Meka Boss

Abilities:
-
Repairs 50 armor per turn..
-
Takes 5 less damage per hit to armor.
-
Receives a bonus to hit (2 gunnery levels).
-
Decloaks enemies in sector every other turn.
-
Cannot be salvaged.
Weapons

Mag
10

15

15


Rail
10

15

15


Web
10

15

15